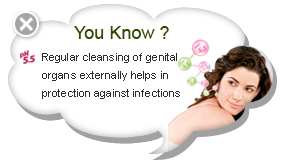 ABOUT PRODUCT :
Supports and protects the natural barrier function of the skin's acid mantle.
With the pH value of 3.8 of healthy skin.
INDICATIONS :
Specifically formulated to meet the needs of feminine hygiene for the very sensitive skin of the genital area.
Clinically tested.
PRODUCT FEATURES :
pH value of 3.8 supports the ecological balance of normal micro-flora, for genital protection.
Regular use supports the acid mantle against pathogenic micro-organisms.
100% soap and alkali free.
Natural organic derivative tensid complex for extra mild cleansing.
Effective soothing and antibacterial properties of alpha bisabolol, the active ingredient of camomile.
Aloe barbadensis activates the moisture content of the skin.
---